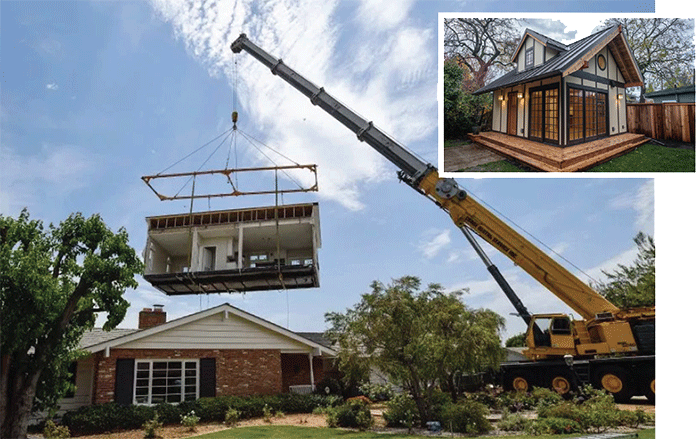 What's an ADU? – an attached or detached unit added to a residential property with independent living facilities for one or more persons. "ADUs are an innovative, affordable, effective option for adding much needed housing in California." 
Recent changes in California state legislation – The State has mandated that Accessory Dwelling Units (ADUs) must be allowed. There are many other mandates to make it easier to add an ADU to your property.
ADUs, Granny Flats, Backyard homes can be an answer to: Rental Revenue, Support family, Downsize in place, and more
I've heard of so many people who are stuck in a quandary. They have aging parents and want to have them living nearby, but maybe just not under their own roof. Then there's the generation below them – children who are coming back home and they need their own space as well. But the thought of selling and moving or buying a huge home addition isn't enticing. What if, instead of dealing with the mess of an expansion or move, you could STAY IN PLACE, and put a nice new unit out back?
An "Accessory Dwelling Unit" (or ADU) offers just that option, so it's no surprise that they're all the rage today. You may have seen them in the papers or on TV. Some people are even adding these units to their backyards just to earn extra rental income. They build a second place for themselves out back and then rent out their own house. Who couldn't use an extra $2,000 to $4,000 extra income monthly?
Our original hope is to spearhead a movement to promote growing a supply of affordable living spaces for people who are homeless or financially insecure due to cost of housing. Our dreaming graduated to this: We hope to present this idea to anyone who's interested!