Accessory Dwelling Units (ADUs)
Do you have:
Aging parents that you'd like to have living nearby, but maybe not under your own roof, and struggle to find an affordable solution?
Adult children (& maybe their young family) returning home, and in need of their own space?
A need for some extra monthly income and are willing to rent out an existing area of your home that might just need a few tweaks to be more private?
An ADU (aka- Accessory Dwelling Units, granny flats, or back houses) can be a solution to any of these quandaries.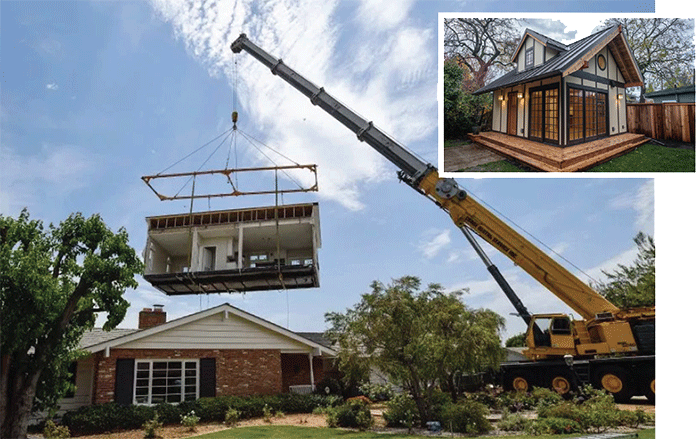 Maybe the thought of selling and moving, or adding on a huge home addition isn't feasible or enticing. What if instead of dealing with the mess of an expansion or move, you could stay in place and put a nice, new unit in your backyard, or convert a current space?
It's no surprise that they're growing in appeal and demand. You may have seen them online or in your neighborhood. Some people are adding these units to their backyards just to earn extra rental income. Some build a second place for themselves out back and can rent out their own original house. Who couldn't use an extra $2,000 to $4,000 extra income monthly?
Accessory Dwelling Units (ADUs) are an attached or detached unit added to a residential property with an independent living area for one or more people. It can be a new building, or repurposing of an existing space. Repurposing can include converting a garage or a portion of the home. An ADU can also be added over a garage.
The California Department of Housing and Community Development calls ADUs an innovative, affordable, effective option for adding much needed housing in California.
Recent changes in California state legislation – The State has mandated that Accessory Dwelling Units (ADUs) must be allowed. There are many other mandates to make it easier to add an ADU to your property. There were recently new changes to ease obstacles for adding an ADU like removing the owner occupation requirement for the property. Some properties can now have two ADUs.
RC Smith Design Build currently has several ADUs in process. If you would like to explore the idea of adding an ADU to your property or have questions about ADUs, please contact us at:
Email:  [email protected]
Phone:  949-678-3092
For additional information, you can visit the California Department of Housing and Community Development (HCD) website.
"What's an ADU?"
Webinar Recording